Marburg, Germany, June 5, 2018

Comprehensive data set presented at Digestive Disease Week® in the U.S.
SB012 was safe and well tolerated and led to marked clinical and endoscopic improvement in patients with active ulcerative colitis
Further support of GATA-3 antagonism as promising treatment approach for variety of chronic inflammatory diseases
sterna biologicals GmbH & Co. KG ("sterna"), an innovative clinical-stage immunology company developing novel treatments for chronic inflammatory diseases, announced that the full data set from the successful SECURE study (NCT 02129439), a Phase 2a trial in patients with moderate to severe ulcerative colitis treated with the GATA-3 specific DNAzyme formulation SB012, was presented during an oral session on June 5th at Digestive Disease Week® in Washington, DC.
The presentation, "Topical Administration of a GATA-3 specific DNAzyme suppresses Mucosal Inflammation in a Randomized Trial with Moderate-to-Severe Ulcerative Colitis Patients," was given by Prof. Dr. Raja Atreya, head of the Clinical Center for Inflammatory Bowel Diseases and the working group for Patient-Oriented Research and Innovative Therapeutic Strategies in IBD, which is part of the team of Prof. Markus F. Neurath, principal investigator of the SECURE trial.
Professor Atreya said: "More effective, better tolerated treatment options are needed for patients suffering from ulcerative colitis. The data from this study indicate that SB012 was well tolerated and led to marked clinical and endoscopic improvement in patients with active disease. I thus look forward to the further development of SB012 in this indication."
SB012 is an enema formulation of hgd40, a novel DNAzyme that specifically binds and inactivates GATA-3 mRNA and subsequent GATA-3 protein expression. The Phase 2a SECURE study was a prospective, multi-center, randomized, double-blind placebo-controlled trial evaluating SB012 in patients with moderate to severe ulcerative colitis. Twenty patients were randomized to locally receive SB012 (N=13) or placebo (N=7) once daily for 28 days. The primary efficacy variable was the change in disease activity (Mayo Score) after 28 days of treatment. Endpoints were also assessed at day 56.
As previously reported, at day 28, there was a statistically significant improvement in the Mayo Score in the SB012 group compared with the placebo group (p = 0.044). In the SB012 treated patients, the Mayo Score dropped from 8.4 ± 1.7 (n = 13) at baseline to 6.5 ± 2.6 (n = 13) at day 28 (p = 0.004), and 5.0 ± 3.5 (n = 7) at day 56 (p = 0.016). In the placebo group, the Mayo Score was 10.0 ± 2.1 (n = 6) at baseline, and 9.0 ± 1.3 (n = 6) at day 28 (not significant; ns), and 9.0 ± 1.4 (n = 2) at day 56 (ns).
SB012 was safe, well tolerated and no safety signals compared to placebo were evident.
"We are pleased that these important clinical data were presented at such an important medical conference in the U.S.," said Christian Pangratz, CEO and Managing Director of sterna. "The data from this Phase 2a trial continue to build on what we have seen in previous trials, supporting that blocking the GATA-3 pathway could be an important new approach for the treatment of a variety of chronic inflammatory diseases. In ulcerative colitis patients, GATA-3 is overexpressed in the mucosa of the large intestine; hence, blocking this pathway with SB012 could offer a first-in-class treatment for this challenging-to-treat disease."
Clinical remission, clinical response, mucosal healing rates and endoscopic response at days 28 and 56 were also assessed in the SECURE trial. Key findings are outlined below.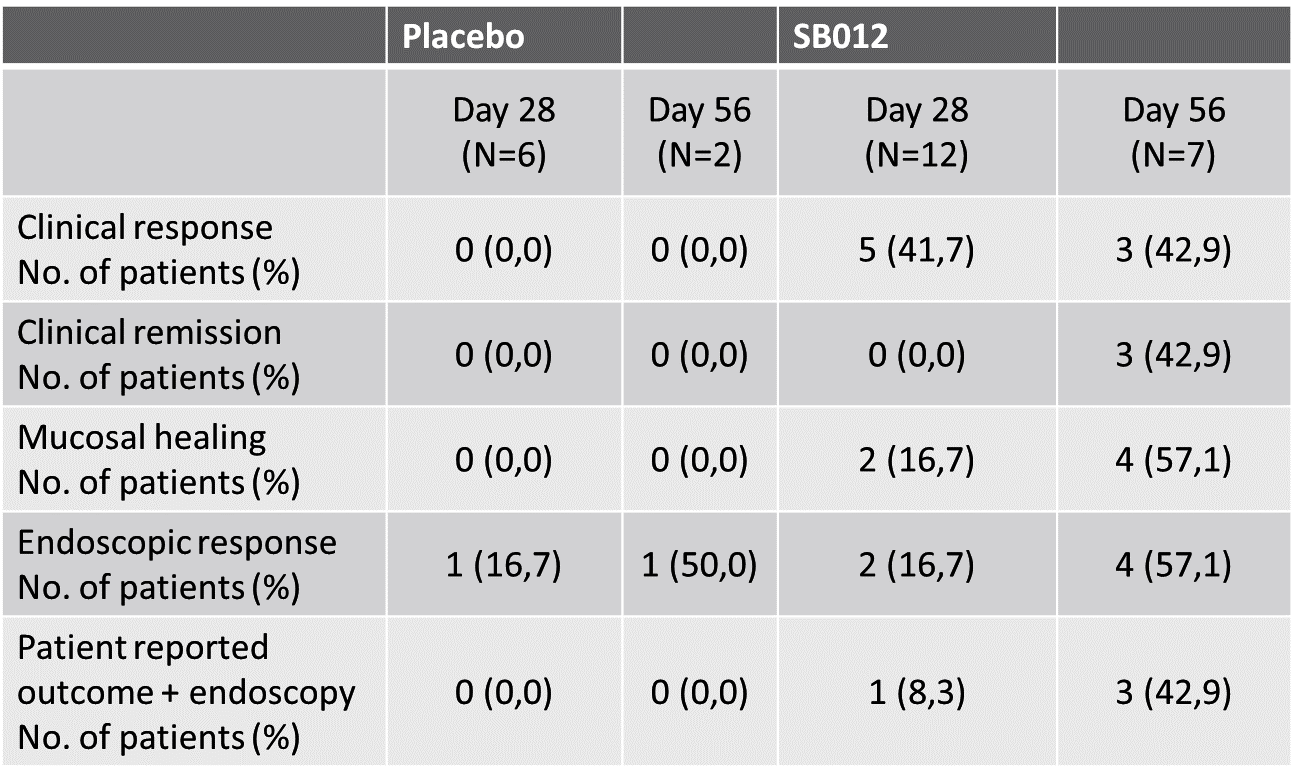 About Digestive Disease Week®
Digestive Disease Week® (DDW) is the largest international gathering of physicians, researchers and academics in the fields of gastroenterology, hepatology, endoscopy and gastrointestinal surgery. Jointly sponsored by the American Association for the Study of Liver Diseases (AASLD), the American Gastroenterological Association (AGA) Institute, the American Society for Gastrointestinal Endoscopy (ASGE) and the Society for Surgery of the Alimentary Tract (SSAT), DDW takes place June 2-5, 2018, at Walter E. Washington Convention Center. The meeting showcases more than 5,000 abstracts and hundreds of lectures on the latest advances in GI research, medicine and technology. More information can be found at www.ddw.org.
About ulcerative colitis
Ulcerative colitis is characterized by a continuous mucosal inflammation which predominantly affects the large intestine. Clinical symptoms include persistent diarrhea with severe fecal urgency and often incontinence, rectal bleeding, abdominal cramping, weight loss, and general malaise. It is estimated that the disease affects approximately 2 million people in the U.S., Europe, and Japan.
ABOUT SB012
Sterna biologicals' drug candidate SB012 is an enema formulation of hgd40, a DNAzyme and first-in-class GATA-3 antagonist.
 
GATA-3 is the master transcription factor regulating Th2-driven inflammatory diseases such as ulcerative colitis, atopic dermatitis, eCOPD and asthma. By inhibiting GATA-3, the expression of downstream cytokines, interleukin IL-4, IL-5, and IL-13, which cause inflammation, is down regulated. In pre-clinical and clinical development, SB012 was found to be safe and well tolerated with first signs of efficacy. DNAzymes are single-stranded DNA molecules comprising a central catalytic domain flanked by two binding domains. The binding domains attach to a specific sequence of targeted mRNA, such as GATA-3 mRNA in the case of SB012. After binding to the target, the catalytic domain then cleaves the mRNA, thereby inhibiting relevant downstream cytokine expression.